| | |
| --- | --- |
| | ICC Profiles: Photographic Prints |
iPrinfromHome.com is pleased to offer an ICC Profile for our Photographic Printing systems. This profile can be downloaded by clicking on the link below.

Our ICC Profile will allow your imaging software, such as Photoshop, to preview on your monitor the way that your digital files will look as Photographic Prints from iPrintfromHome.com. This process is commonly known as "soft proofing".

However, the first step to properly utilizing these profiles is to establish your own color managed workflow. To learn more about Color Management, please click here.

Please note that the downloadable ICC Profile is a zipped file. It will need to be unzipped after being downloaded.



Soft Proofing Using ICC Profiles
To "soft proof" your image using our ICC Profiles, please open your image in Photoshop. Then go to View >> Proof Setup >> Custom to establish the proper soft proof settings. This is shown in the image below.


Select the proper iPrintfromHome profile from the "Profile" drop down list. Please note that you must first install the profile before you can use it in Photoshop to soft proof your images. Here are some instructions from Adobe Photoshop about installing color profiles:

"In Windows, right-click a profile and select Install Profile. Alternatively, copy the profiles into the WINDOWS\system32\spool\drivers\color folder.

In Mac OS, copy profiles into the /Library/ColorSync/Profiles folder or the /Users/username/Library/ColorSync/Profiles folder.

After installing color profiles, be sure to restart Adobe applications."


Ensure that "Preserve Color Numbers" is NOT checked.


Set rendering "Intent" to "Perceptual".


Click "OK". You will now be able to accurately soft proof your image.


After you have adjusted your file to your specifications, save a copy of the file (we always recommend that you keep the original file in tact) for submission to iPrintfromHome.com. When saving the file, do NOT embed our ICC Profile. Instead, please embed your working color space profile. For more information about working color spaces amd embedding profiles in your images, please click here.


Please note that you will have to repeat these steps to soft proof each image.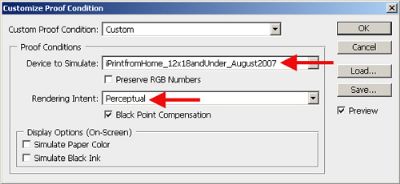 Questions? Comments?