Whats with the name?
Whats with the name?
posted: March 25, 2009
iprintfromhome.blogspot.com

We've been hearing recently that people think the name of our company - iPrintfromHome.com - is a little strange and they're not exactly sure what it means. So today, I'm here to clear up the confusion and answer the burning question:

What's with the name?

The answer is rooted in our company history:



30 years ago almost to the day, my Dad (George Campos) opened Campos Photography Center - a darkroom rental lab for artists and photographers. His customers were artists and professional photographers who wanted to have more control over their printing but didn't want to go to a custom lab, didn't have access to their own darkroom, or maybe didn't have the money to invest in creating their own facilities at home.

The company evolved through the years to become a strong regional custom lab. With the advent of digital photography, the business moved in another direction. In the fall of 2001, my brother (Christian Campos) moved back to Buffalo and he and my dad launched iPrintfromHome.com - an online division of Campos Photography Center, which is now our main focus.

Operating as iPrintfromHome.com, we're still basically doing the same thing that we were doing back when the Campos Photography Center first opened its doors. But now, instead of coming to our location to rent our darkrooms and print your work, you can do it all from the comfort of your home with a little help from a computer and the internet. Hence the name: iPrintfromHome.com



Please click here to view the original post.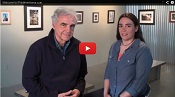 Welcome to iPrintfromHome!