Service Changes
Service Changes
Posted: Semptember 8, 2009
iprintfromhome.blogspot.com



We're making a few changes this fall to our delivery and pick-up service options at iPrintfromHome.com.

Beginning Monday, September 14th, we will no longer be offering a delivery service to the local Dash's Markets. However, to compensate for the drop in service, we are going to be extending our hours of operation at iPrintfromHome Headquarters at 1016Niagara Falls Boulevard, just north of Sheridan Drive.

We will be open Monday-Thursday from 8:00am-8:00pm EST, Friday from 8:00am-4:00pm and Saturdays from 8:00am-12:00pm EST

Beyond the additional hours, we've also got a new customer entrance at our location at on Niagara Falls Boulevard. We just opened the doors last week and are still working on adding displays and tying up loose ends. Stop in and say hi!


Please click here to view the original post.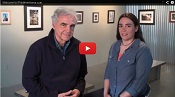 Welcome to iPrintfromHome!