Reality to Fantasy and Back: photography by Matt Buckley
Reality to Fantasy and Back: photography by Matt Buckley
Posted: April 23, 2010
iprintfromhome.blogspot.com



We're having an art show!

If you're in the Buffalo, NY area, please join us for the opening reception this Wednesday night at iPrintfromHome.com.

Date: Wednesday, April 28 2010
Time: 5:00pm - 8:00pm
Location: iPrintfromHome.com/the Campos Group
1016 Niagara Falls Blvd.
Tonawanda, NY 14150

Artist's Statement:
Over the past year, I have had the chance to visit some of Western New York's most beautiful, natural landscapes. I feel that in my 6 years being a photographer, my recent images have been stronger than ever. Exploring known and new parks to myself, I help bring the natural beauty to you, in an unnatural way.

Exploring places such as Forest Lawn Cemetery, Woodlawn Beach, Tifft Nature Preserve, Niagara Falls Gorge, Buckhorn Island Park, all stretching from Dunkirk to Niagara Falls. Exposing areas that might be over looked, allows the viewer to not become bored while looking at my pictures. Starting on the left side of each image you visualize the reality of the picture, and as you move towards the middle, you start to question, "What is going on here?" With the viewer getting lost in the heart of the image, objects appear, and spit you back out to the reality on the right side.

Symmetry can be defined as the beauty based on or characterized by such excellence of proportion. My images strongly rely on the idea of symmetry, where people are not used to seeing nature in a symmetrical way, but once you do it is hard to look away.

Taking each picture into Photoshop, and flipping the image to mirror itself, brings out a number of new features for the viewer to see. Most frequently, creating faces and animals, bringing the landscapes to "life". When looking at my photographs don't be afraid if they "look back" at you!

Please click here to view the original post.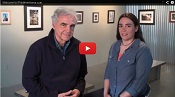 Welcome to iPrintfromHome!