Strokes & Borders
Strokes & Borders
Posted: May 11, 2010
iprintfromhome.blogspot.com



Watch this video to learn about stroke and border options at iPrintfromHome.com. Strokes and borders can be ordered through iPrintfromHome ROES or the 'Crop & Composition Tool'.

To get started, go to iPrintfromHome.com and click on "How do I Begin?"


Please click here to view the original post.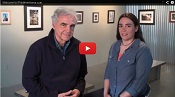 Welcome to iPrintfromHome!