Happy New Year!
Each year, when we look back at what we've done the last 12 months and try to figure out what worked & what didn't, patterns emerge that help us focus our energies moving forward.

One of the most interesting projects we worked on in 2010 was the "What, How, Why" interview series. We asked fourteen artists & photographers 3 simple questions: (1) What do you do? (2) How do you do it? (3) Why do you use iPrintfromHome.com? The end result was a series of 14 mini profiles featuring a wide range of talented folks and some very cool imagery. Looking back at the individual stories, we keep finding ourselves thinking how lucky we are to have the opportunity to work with such interesting & talented people. If you missed any of the stories, or you'd like to take a second look, click here to read more.

Another big project that we worked on this year came about as a result of listening to and acting on your suggestions: we nearly doubled the size of our product offerings. In July 2009, we introduced a whole bunch of square sizes, panoramic sizes & some other non-standard sizes. We also started offering mounting and laminating services, which has been a great success. We still have a host of options that we'd like to make available and we're working on improving the ordering system constantly. There will be new additions & improvements to come in 2011. Keep your eyes out for our eNewsletters and please don't hesitate to contact us with your suggestions.

The pattern that we see emerging, both in the examples discussed above and other projects we work on daily, is a real focus on developing and supporting this community of artists and photographers that make up the iPrintfromHome.com family. We really love working with you. All of you, whether you spend your time behind cameras, in front of easels, or chasing your kids with your point-and-shoot in hand, all share something very special in common. You see beauty in the world and can't help but share it. We know that you have plenty of choice out there, and we're so happy that you choose to share your images with us.

From your loyalty and your support it is clear that you continue to understand the power of working with a team that is intent on helping you get exactly what you want. Thanks for giving us the opportunity and for trusting us with the process of imaging your imagination.

As much as we have enjoyed this last year, we feel like kids, bubbling with excitement, anticipating the year to come.

As always, thank you for your continued support of iPrintfromHome.com!

Happy New Year!

Thanks,
George, Sara & the iPrintfromHome.com team


Posted: January 4, 2011
iprintfromhome.blogspot.com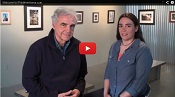 Welcome to iPrintfromHome!