Happy New Year!
The picture to the right is from our cheesecake party in Februrary 2011 to celebrate hitting 1,000 fans on Facebook. We're featuring that image today because we think it speaks a lot about our company culture.

Connecting with our customers is a priority at iPrintfromHome.com.

We are a small group of people based out of Buffalo, NY working to help artists all across the country. A big part of our success comes from understanding the needs of our customers. And, we gain that understanding by being involved in and helping to develop a community of artists. These days that community has greater reach than it ever has. With the help of the internet, we've been able to connect with people all over the United States and Canada. Many of you have never actually met us face to face, but through our small interactions on the phone, over e-mail and Twitter, or simply by working with your images, we get to know each other. It's really exciting to get the opportunity day in and day out to work with such a dynamic and interesting group of people.

In one form or another, we've been working with artists for over thirty years. Although the technology keeps changing, the basic needs are the same. You and your fellow customers have ideas or visions that currently reside in your mind, on canvas, or in digital form and you need help accurately translating those visions into prints. We know how important your images are to you and we take pride in producing excellent reproductions of your work. Thank you for giving us the opportunity to help you image your imagination.

As always, we've really enjoyed working with you in 2011. We've got some cool stuff in the works for 2012. Keep your eyes out for more improvements to our products and processes. And, keep on sending us your suggestions and requests! The more we understand what you need and want, the better we'll be able to help make it happen. As always, we aim to provide you with a service that delights you and never takes you for granted.

From our family to yours, we wish you the very best this coming year. We're looking forward to continuing the journey with you.

Happy New Year!

Thanks,
the iPrintfromHome.com team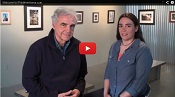 Welcome to iPrintfromHome!