Video: Hanging Mounted Prints


In this video, Sara demonstrates two different methods you can use to easily hang mounted prints at home or in a gallery setting.

Don't forget to take advantage of our mounting sale which runs through the end of March. For more information, please click here.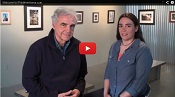 Welcome to iPrintfromHome!