DIY Photo Cards
This time of year always seems to flash right by. We go from seemingly endless winters to making the spring/summer transition in the blink of any eye...well, unless you're in the Rockies, where it is apparently still winter.
We're on the b
rink of graduation and wedding season, which means graduation announcements, save-the-dates and lots of thank you cards. Have you thought of designing your own? Funnel those creative energies and make a photo card that people will cherish for years to come. Check out this article we posted a little while back. You'll get to see some announcements that I (sara) made for my wedding, many of which are still hanging on the fridges in my friends' and family's homes. http://www.iprintfromhome.com/photocards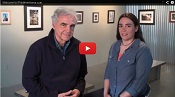 Welcome to iPrintfromHome!