FedEx Ground Delivery Times
This map details FedEx Ground delivery times in business days from our location in Kenmore, NY 14217. These delivery times do not include the shipping day.

Please note that FedEx Ground only picks up orders Monday through Friday, which means that all FedEx Ground packages shipped on Saturday by iPrintfromHome will not be picked up by FedEx Ground until Monday.

This map was generated by FedEx on 8/6/12 and is subject to change at any time. For the most current information, please visit FedEx.com.

Questions? Comments?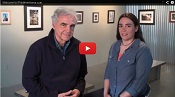 Welcome to iPrintfromHome!