In Development: the Artists Resource Center


Amanda, a San Francisco based visual artist and iPrintfromHome.com customer, posted this unsolicited video after receiving her first order of Giclee Fine Art prints from iPrintfromHome. Watch the video and see what she has to say about the quality of our prints and our packaging. You can also see more of her work at artofselflove.etsy.com.

We love this video for a whole bunch of reasons, but the number one reason we love it so much is because Amanda provides an honest assessment of our services with the aim of helping her fellow artists begin selling reproductions of their work.

That's exactly what we strive to do at iPrintfromHome.com everyday – we're here to help artists and photographers make excellent reproductions of their work. After watching Amanda's video and reading all the appreciative comments from her viewers, we've decided to design a section of our website devoted to advice for artists from artists.

Eventually we'd like the Artist's Resource Center to include a video bank, instructional articles and tips of the trade – but the Artist's Resource Center will be shaped by the types and quantity of submissions that we receive.

Some of the topics that we'd like to feature include: selling your artwork, marketing yourself, applying to art shows, ect. If you have something that you'd like to contribute to the Artist's Resource Center, please click here to send us an e-mail.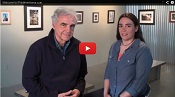 Welcome to iPrintfromHome!