Metallic Photographic Prints
We gladly offer Photographic Prints printed on Kodak Endura Metallic Paper.

Here is what Kodak has to say about the Metallic Paper on Kodak.com:

"Kodak Endura Metallic Paper opens a whole new dimension for commercial and portrait output. Its glossy finish and metallic appearance creates images with exceptional visual interest and depth that will appeal to both photographers and display designers seeking a unique look. And it delivers rich, vibrant colors and flattering flesh tones. Kodak Endura Metallic Paper is ideal for portrait (sports, special events, youth, wedding mementos) and commercial (commercial print runs, press kits, photo décor, pop-up, display images) applications.

"This paper uses a proprietary combination of film laminate layers that results in striking, three-dimensional, lasting images on an ultra-bright background. Its professional emulsion set provides extreme sharpness, brightness, and color saturation. In addition, the paper support offers enhanced durability and tear resistance."

If you would like to receive a sample Metallic Photographic Print, as well as samples of our other print offerings, please click here to request a free Paper Sampler and Calibration Kit.

Please click here to learn more about our pricing for Metallic Photographic Prints.

Questions? Comments?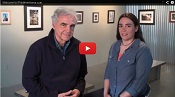 Welcome to iPrintfromHome!