Check out our Blog
We've started a blog so that we can share stories with you about our experiences at iPrintfromHome.com. Please click on the links on the left to read some of our posts.

We'll post news and updates about our company, but we also plan to share the human side of our company through this blog, because that's what these things are really about anyway, right? We read blogs so that we can connect with other people, share ideas and get inspired.

Please click here to join in the conversation.

Questions? Comments?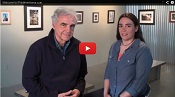 Welcome to iPrintfromHome!